Pick-up
At 9 am in Barcelona or 10 pm in Tarragona, your private guide will come and pick you up from your accommodation. The ride separating Barcelona from the Priorat region is a 2 hours ride. Your guide will provide you with all the information about the Priorat, its wine, and its history. You will also have fresh bottled water and all the comforts needed for the journey. 
First winery: Gratavinum
Our first winery will be the winery of Gratavinum in the town of Gratallops. A winery that makes natural wine from biodynamic vineyards. This means they generate their fertility through composting, integrating animals, and cover cropping. Making natural wines that don't use any sulfites to preserve the wine. Achieving a great complexity that you will be able to try in this experience that also includes a walk to their vineyards.
Jeep Ride: You can make the same tour including a Jeep Ride in Gratavinum, €35 extra.
Lunch option 1: Clos Figueras
The winery Clos Figueras in the town of Gratallops is one of the first private wineries to be established in Priorat in the 1980s. They serve their wine together with their menu, which is included in the price and it has a big variety of meals. Fish, meat, and vegetarian, all coming from local providers. Even their vegetables are from their garden.
Special restaurant: you can also choose to eat in the restaurant Brots of Poboleda. Signature cuisine for €20 extra.
Second winery: Scala Dei
The Scala Dei winery was the first winery in the region, dating to the XVth century. Today is a very important winery for all Priorat wines. A wonderful place with a rich history and some excellent wines, that you will taste. 
For this stop, the guide will ask you if you would like to do the winery tour or do a wine tasting in the winery together with the Charterhouse tour.
Drop-off
The drop-off at your accommodation will be at 8 pm if it is in Barcelona, or 7 pm if it is in Tarragona.
Private guide service.
Private transfer service, with pick-up and drop-off in Barcelona.
Wine tasting and winery tour in the Scala Dei winery.
Lunch
Wine tasting and winery tour in the Gratavinum winery.
Not included in the price
The guide tips.
Drinks and snacks outside the original stops.
Wine in the restaurant Brots.
IMPORTANT TO WEAR
Confortable clothes and fresh water.
Sun cream and hat in summer.
Ivan was an incredible guide.

I paid for a private tour, and he want above and beyond to ensure the day was amazing for me.

We did both wine and olive oil tastings, explored a vineyard, explored wine making rooms, explored an olive orchard and their refining process, went to some old ruins, ate an incredible 3 – course lunch, and saw some amazing views. We had great conversation, and he also shared a lot of his knowledge about the history and culture of the El Priorat/Monsant region!

He was extremely receptive to my expression of the experience I desired to have. He even altered plans a bit upon getting more feedback from me, around what I wanted to do. We literally did exactly what I wanted, and it was even better than I could have planned or imagined it.

A private tour is literally worth EVERY euro.

There is so much included in the cost of the tour that it is actually impressive he doesn't charge more. You could easily spend the same or more than the cost of the tour in a day of renting a car, paying for gas, paying for all the wine tastings and tours, and also paying for one's own food and water. Also, not to mention, the value his knowledge and ability to guide and pre-arrange these experiences brings, is amazing. Consider this.

I would absolutely do this again with Ivan.

Go check out El Priorat. It is magical and has seriously delicious wine, olive oil, and food. Ivan will make your visit to Catalunya unforgettable.
My husband and I enjoyed a day trip from Barcelona to the Priorat region with Ivan as our driver, guide and companion. The entire day was a delight from start to finish. We visited two wineries, had an incredible and memorable lunch, and took in a few attractions and vistas along the way. A bonus of our tour was that Ivan is a history enthusiast, so we got our wine tour, along with all kind of insights on Barcelona, Catalonia, its people, culture and history during the drive.I will also add that we requested a tour just three days in advance, and Ivan quickly responded and made it happen. The whole experience felt tailored for us, a day trip with a friend, not a canned tour. Highly recommend!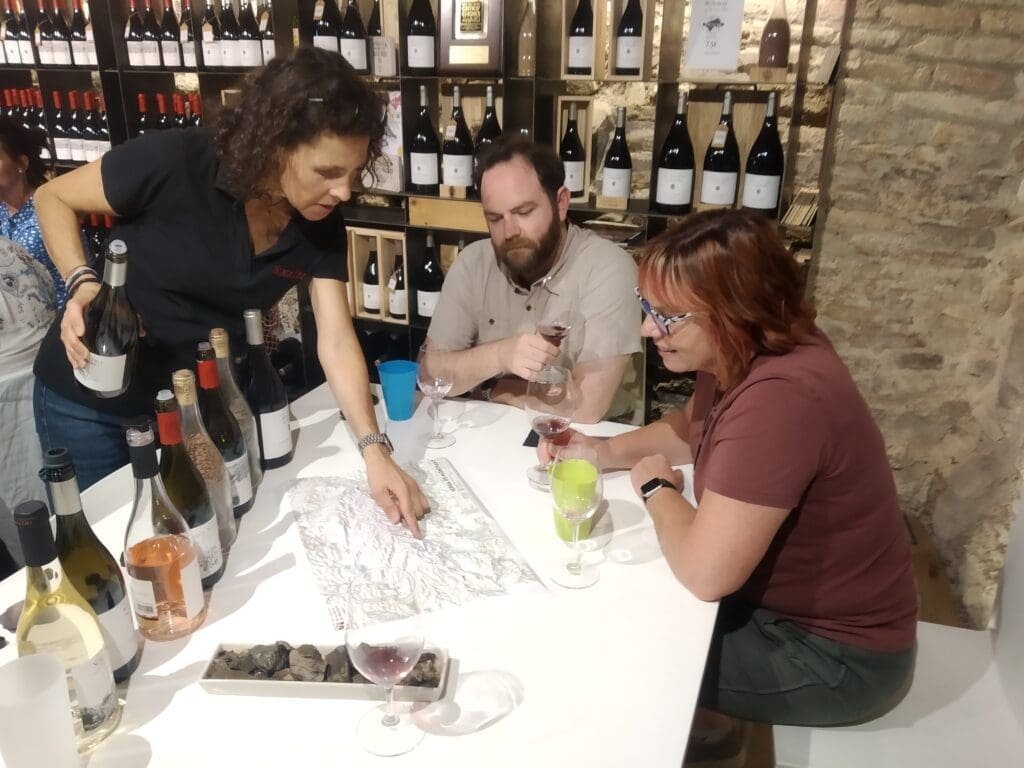 We had an amazing private tour with Ivan to Priorat which exceeded all our expectations. It was perfectly tailored, Please do not hesitate to contact Ivan if you are a wine lover and looking for something special nearby Barcelona!
Reservations must be done at least 3 days in advance by contacting the WhatsApp chat or sending an email to info@wino.tours.
The minimum price to pay is 290€. From there, every extra adult is €125 and children €55. THE MAXIMUM GROUP SIZE IS 8 PEOPLE.
Adults
Jeep Ride at Gratavinum €30
Teens
Soft drinks and winery tours

Jeep Ride at Gratavinum €30
Soft drinks and winery tours

Lunch in Clos Figueras and Brots

Jeep Ride at Gratavinum €30
Up to 48 hours before the activity: 100% refund.
From 24 to 48 hours before the activity: 50% refund.
Less than 24 hours before the activity: there is no refund.
If the activity cannot be carried out due to unfavorable weather conditions or other causes beyond the control of the organizers (such as health restrictions), the activity will be canceled with refund.