Find a fun way to spend the day with family and friends. Going out for a horse ride through the vineyards of the Penedés. An activity adapted to all ages, where you can enjoy the company of these beautiful animals.
All of it near Barcelona, easily accessible by train and car. With many activities to do after the ride. Like eating a delicious picnic among the vineyards tasting cava in a nearby winery. Making the most of your day in the Penedés region.
Choosing a good horse riding center in Barcelona
In the province of Barcelona there are many places offering horseback riding. Many of them are close to the city and its surroundings are crowded. With many passersby and urban areas. This of course, takes away the charm of a horse ride in nature.
And aswell, ther are horse riding center that aim to sell as many rides they can. Without letting the animals rest quietly. This, of course, is an abuse for the poor horses. So we must be careful when choosing a good equestrian. And don't do it just because the price is cheap.
Where to ride a horse?
In the region of Alt Penedes, 60 km away from Barrcelona city center, we find an ideal place. A small horse riding center in the middle of vineyards, located in the village of Lavern-Subirats. A quiet place near a train station and wineries, to go and have a pairing after the walk.
The equestrian is a 10-minute walk from the Lavern-Subirats train station and its horses are well cared for. Mar, the girl who is in charge of the equastrian, has been riding horses since she was a little girl. Thus, she will teach you how to ride and explain the essentials before the route.
Stroll through the Penedés vineyards
The walk offered by the riding center Excelsior from Lavern-Subirats, runs comfortably through the Penedés vineyards. An idyllic place for horseback riding, with views of the Montserrat mountains and the beautiful Penedes region. It is a linear route that lasts approximately one hour. And that passes only by dirt roads, until it reaches a viewpoint where you can take beautiful pictures.
And if you have already done several horseback rides, then I recommend you try the 2-hour route. This is a circular route that runs through the forests of Ordal natural park. With many places to enjoy the views and nature.
The price of a good horse ride
As has already been commented, it is important not to focus only on the price. Well, the care that the horses receive depends on it. In the equestrian Excelsior we have very well cared animals for € 40 if we choose the 1-hour ride and € 70 for the 2-hour ride.
Pony rides for the little ones
In the equestrian they also have ponies for the little ones. If you come with children under 7 years old, you will have the opportunity to walk on foot with the little one who will be riding a pony. This way you can enjoy a pony ride without putting his or her safety at risk.
If you are interested in this service, write here for more information.
More activities after the ride
If you want to make the most of the day, I recommend doing a gastronomic activity after the walk. El Penedés is a wine region, with many wineries where you can taste exquisite wines. Here we can do cava tastings, pairings, and a picnic if we wish.
1. Cava pairing in a family winery.
Right next to the equestrian, you will find a family winery called Cava Guilera. It is a good option if we have come by train. In addition, the winery is specialized in aging cavas. So we will have an excellent quality of sparkling wines. For only €15 we can have a tasting of three cavas paired with cheese and chocolate.
More information about the wine tourism package here.
2. Picnic among vineyards with natural products.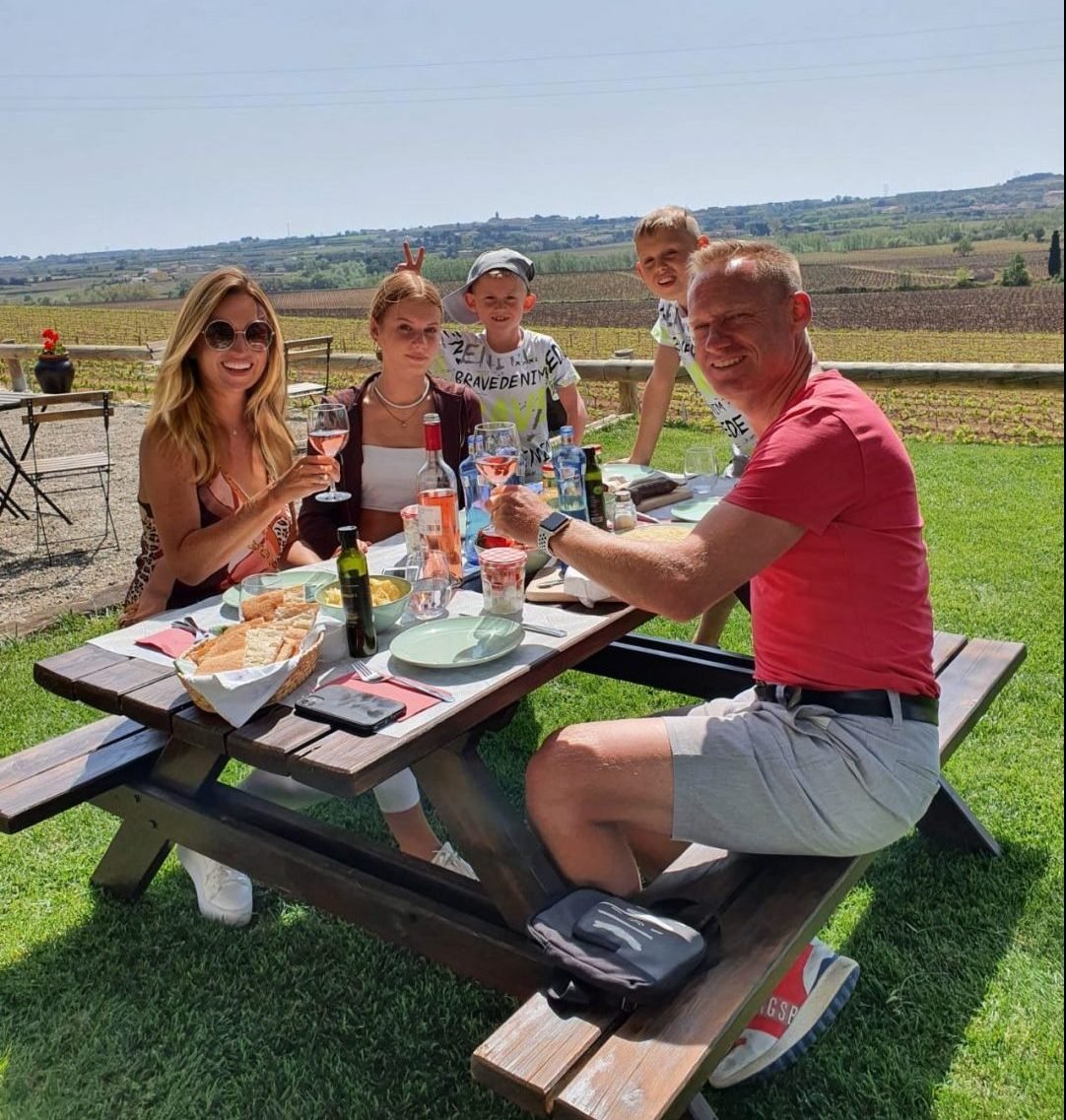 Another option that we can choose is to have a picnic among the vineyards. This is an ideal activity if we go as a family. Well, children have a discount and they will love eating next to the vineyards. With seasonal and local products: Spanish omelette, Catalan sausages, "pa amb tomaquet"… accompanied with the best wine from the winery.
2 activities that complement each other very well and that you can book with a 10% discount here.
3. Ecobrunch in an organic winery.
For the most gourmets and wine lovers, this activity offers a visit to the vineyards with wine tasting and an ecobrunch overlooking the vineyards. In addition, you will enjoy the wines from the winery of Albet i Noya, a winery specialized in organic crops. All for € 35
Here you can find more information about the deal.
More activities of your interest
If you want to know more activities of your interest, you have at your disposal a list of experiences nearby here.